Biosimilars/Biobetters Pipeline Database - Top Level Data (as of 1/1/2018)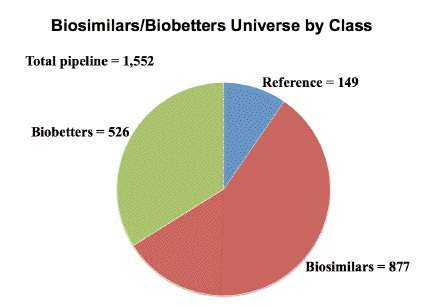 product entries = 1,552
pipeline products (biosimilars + biobetters) = 1,403
biosimilars = 877
biobetters = 526
ref. products = 146
companies = 700
The Biosimilars/Biobetters Pipeline Directory covers only recombinant proteins (great majority) and other cell culture/fermentation-manufactured protein products (e.g., vaccines, blood/plasma and cellular products not included).
[Note, biosimilar and biobetter U.S. and EU launchable dates (patent, data and market exclusivity expirations) are reported for the reference products in BIOPHARMA: Biopharmaceutical Products in the U.S. and European Markets, "The Reference Products' Reference]."

Near-term economic impact includes biosimilars sooner or later in the U.S. and European markets for the <50, nearly all recombinant, mostly monoclonal antibody, products with over $1 billion/year sales, and 20+ others with sales over $500 million/year.
The table above shows country or regions and the numbers of biosimilars and biobetters associated with companies based (with headquarters) in these countries/regions.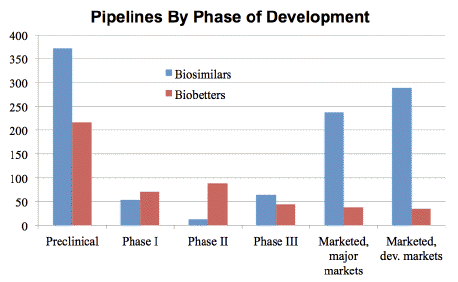 Note, multiple companies are often involved with each product (developers, partners, licensees, etc.). Marketed products are here indexed by whether they appear primarily on track for initial or primary marketing in developed or developing country markets.

Some Popular Targeted Reference Products
[No. of biosimilars by reference product]
| | |
| --- | --- |
| Epoetin alfa | 90 |
| Neupogen | 77 |
| Interferons (alfa) | 75 |
| Insulin and analogs | 71 |
| Rituxan | 51 |
| Herceptin | 54 |
| Humira | 45 |
| Avastin | 40 |
| Somatropins | 37 |
| Enbrel | 36 |
| Neulasta | 31 |
| Remicade | 21 |
| Lantus | 15 |
| Interferons (beta) | 32 |
| Cancer indications | 490 |
| mAbs, mAb fragments | 334 |
Companies With the Largest Biosimilars Pipelines (10 or more)

Harvest Moon Pharmaceuticals USA, Inc.
28
Bioviz Technologies Pvt. Ltd.
28
Pfizer
21
BioXpress Therapeutics S.A.
20
Reliance Life Sciences Pvt. Ltd.
18
Creative Biomart Inc.
15
Dong-A Pharmaceutical.
15
Chemo Group (Grupo Insud )
15
Inbiopro Solutions Pvt Ltd.
14
LG Life Sciences Ltd.
14
Mylan Labs.
14
Bio Sidus S.A.
13
Biocon Ltd.
13
BioPartners GmbH (Bioton)
13
Intas Biopharmaceuticals Ltd.
13
Dr. Reddy's Labs.
13
AXXO GmbH
12
Sandoz AG/Novartis AG
12
SciGen Ltd. (Bioton)
12
Amega Biotech
12
BioGenomics Ltd.
11
Green Cross Corp.
11
BioGenomics Ltd.
11
Zydus Cadilla Healthcare Ltd.
11
Viropro Inc.
11
Cassara Biotech
10
Biocad Biotechnological Co.
10
Siam Bioscience
10

Biosimilarspipeline.com Information Resources: A variety of unique follow-on biopharmaceutical-related information resources are available or planned:
Biosimilars/Biobetters Pipeline Database:
see above and left column
Glossary of Biosimilar and Biobetter-Related Terms - simple definitions
Licensing Opportunities
- products, technologies and patents (planned)
Product Documentation Library
- descriptive product information from the only fully authoritative sources - manufacturers and regulatory agencies (planned)
News/Blog
- miscellaneous news and commentary (planned)
Some related articles by the database author:
"Biosimilars Paving The Way For Cost-Effective Bioprocessing," Biosimilar Development, Aug. 23, 2017.
"Biosimilars Pipeline Analysis: Many Products, More Competition Coming", Biosimilar Development, July 26, 2016.
"Biosimilars and Biobetters: Impact on Biopharmaceutical Manufacturing and CMOs," in Biosimilars of Monoclonal Antibodies: A Practical Guide to Manufacturing, Preclinical, and Clinical Development, by Liu, C. and Morrow, J., Wiley, Dec. 2016.
"Biosimilars Pipeline Analysis: Many Products, More Competition Coming", Biosimilar Development, July 26, 2016
"Future Manufacturing Strategies for Biosimilars," BioProcess International, May 2016, 14(5), p. 24-29
"Biosimilars Outsourcing and Capacity," Contract Pharma, May 2016
Pharmaceutical Outsourcing
"Biopharma Nomenclature: Citizen Petition Requests Biopharmaceutical Names and Information Be Disclosed by FDA," Contract Pharma [guest editorial].
"What Is a Generic Biopharmaceutical? Biogeneric? Follow-On Protein? Biosimilar? Follow-On Biologic? Part 1: Introduction and Basic Paradigms Introduction and Basic Paradigms"
, BioProcess International, March 2007
"What Is a Generic Biopharmaceutical? Biogeneric? Follow-On Protein? Biosimilar? Follow-On Biologic? Part 2: Information, Nomenclature, Perceptions, and the Markets" , BioProcess International, March 2007
"Re(Defining) Biopharmaceutical ," Nature Biotechnology, July 2008
"What is a Biopharmaceutical? Part 1: (Bio)Technology-Based Definitions," BioExecutive, March 2005 BioExecutive, May 2005
"Biopharmaceuticals: Lack of Information Disclosure Confounds Public Trust, Particularly in the Context of Biosimilars"
- guest editorial, BioWorld Perspectives

Need a Consultant With Biosimilars Expertise? - Contact Biotechnology Information Institute for world-class expertise concerning biopharmaceutical information, products, technologies, and related market, technology and policy assessments.


Have a question about content, the databases or PDF?; Contact the author, M-F 9AM-5PM Eastern U.S. time:

Sales handled by:

BioPlan Associates, Inc.
2275 Research Blvd., Suite 500
Rockville, MD 20850
Tel: 301-921-5979
Fax: 301-926-2455
Email: biosimilars@bioplanassociates.com
Copyright©2018. Biotechnology Information Institute