Figures 1 and 2 from GEN Article
Based on Biopharmaceutical Products in the U.S. and European Markets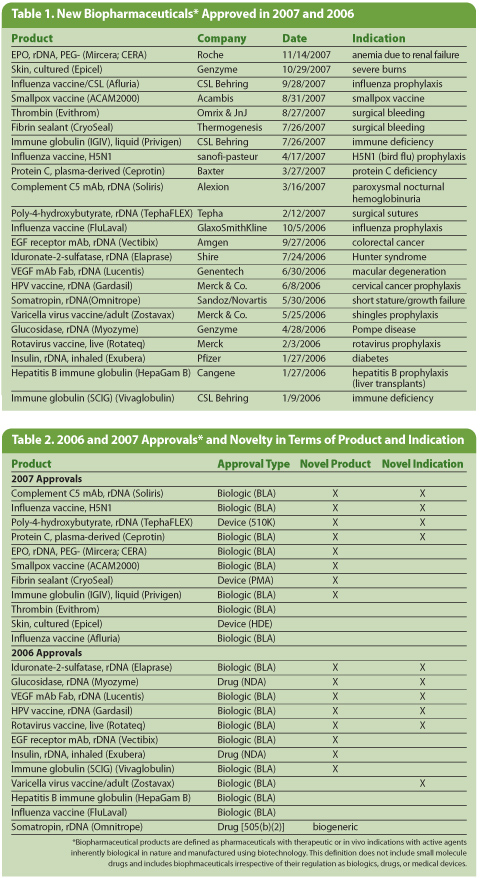 Note, "Novel Product" in Table 2 refers to the extent to which this product is unique, distinct and not substantially similar to a prior product based primarily upon consideration of the active agent, its identity/source, manufacture and specifications, and the finished product, i.e., its CMC or process=product aspects. Generally, a "Novel Product" can be considered a truly new product. This "novelty" is not a measure of innovation or the newness, uniqueness, high-techiness etc. of the technology incorporated or embodied in products.
Products not considered novel in 2007 were:

Evithrom - a fibrin sealant kit similar to prior products
Epicel - considered not new/novel, because the it had been marketed in the U.S. as an unregulated cell culture service for ~20 years before this formal approval as a product
Afluria - another seasonal influenza vaccine, by its very nature designed to be what many would consider a follow-on biologic/biosimilar, i.e., similar and even substitutable with other injectable influenza vaccines

Products not considered novel in 2006 were:

Zostavax - a live varicella virus (chicken pox virus; also the cause of shingles in adults) similar to the current pediatric vaccine, Varivax, also from Merck, but this with this having a higher virus titer and for adult use
HepaGam B - a hepatitis B immume globulin similar to prior products
FluLaval - another influenza vaccine; see comments above about Afluria
Omnitrope - yet another recombinant somatropin (human growth hormone), similar to prior products, and in fact, approved as a follow-on protein/biosimilar through a 505(b(2) approval based on an abbreviated filing and comparability with Humulin, a prior similar product.

However, novelty, similarity, etc. are finely nuanced, not black-and-white, all-or-nothing aspects of products, i.e., there are different degrees, shades or a spectrum of novelty. Upon close examination, more of the 2007-approved products are less novel than those approved in 2006, having more similarities to prior products. For example, Mircera is essentially a pegylated (polyethylene glycol or PEG polymer attached) version of recombinant erythropeietin (EPO), close enough to Epogen (and Procrit) hat patent infringement is barring the product from marketing in the U.S; ACAM2000 is the same old live vaccinia virus used in Dryvax, the primary smallpox vaccine for many decades, but cell cultured rather than cultured on the skin of cattle; CryoSeal is essentially a next-generation replacement fibrin glue and; Privigen is a next-generation highly-purified immume globulin similar to prior products.
Novelty of indications is clearer and easier to determine. Note, only a minority of 2007 approved-products are for new indications. Otherwise, products not considered as having "Novel Indication" involve indications/diseases for which products, often similar in some or even many respects, were already available.