Biosimilars/Biobetters Pipeline Directory - Top Level Data (as of 7/9/2019)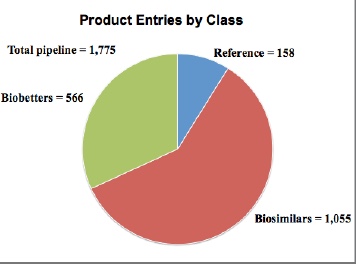 product entries = 1,775
R&D pipeline products (biosimilars + biobetters) = 1,621
biosimilars = 1,055
biobetters = 566
ref. products = 158
companies = 791 [in separate relational database]
The Biosimilars/Biobetters Pipeline Directory covers only recombinant (great majority) and other cell culture/fermentation-manufactured protein products. Vaccines, blood/plasma-derived, cellular and gene therapy products not included.
[Note, biosimilar and biobetter U.S. and EU launchable dates (patent, data and market exclusivity expirations) are reported for the reference products in BIOPHARMA: Biopharmaceutical Products in the U.S. and European Markets, "The Reference Products' Reference]."

Near-term economic impact includes biosimilars sooner or later in the U.S. and European markets for the ~50, nearly all recombinant, mostly monoclonal antibody, products with over $1 billion/year sales, and 20+ others with sales over $500 million/year.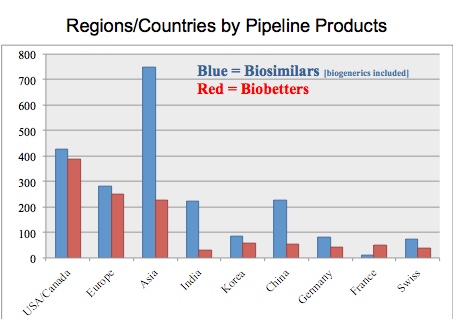 The table above shows country or regions and the numbers of biosimilars and biobetters associated with companies based (with headquarters) in these countries/regions. The U.S. is by far the leader in both biosimilars and biobetters. As a region/continent, Asia is by far the leader in biosimilars (although most are more biogenerics vs. biosimilars in more highly-regulated markets). China is now pulling ahead of India in terms of biosimilars/biogenerics, while also having many more biobetters in the pipeline vs. India.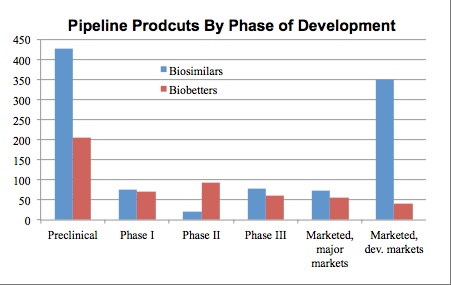 The table above shows the distribution of products by their highest phase of development attained in any country (with phase in the U.S. and Europe also searchable). Product entries are indexed and the online database allows searching of products, including prospective genuine biosimilars, being developed initially or primarily for highly-regulated country markets (>400 products) vs. biogenerics (>700; usually called 'biosimilars' by their developers).
Note, most of the 'marketed biosimilars' in developing markets are biogenerics -- finished products that are rather similar (e.g., same generic API-based names used) to established major market reference products, but are not manufactured to highly-regulated country (e.g., U.S., EU) GMP standards and/or are or will not be rigorously (by highly-regulated country standards) tested analytically and clinically in comparison with their reference product. Biogenerics are sold in lesser- and non-regulated international commerce often based simply on meeting pharmacopeial standards for the reference product; including often sold through tenders/RFPs (a gov't essentially orders from a lowest-bidder company acting as a CMO). With work and investment, biogenerics may become approvable as biosimilars in highly-regulated countries.

Some Popular Targeted Reference Products
[No. of biosimilars by reference product]
| | |
| --- | --- |
| Epoetin alfa | 98 |
| Neupogen | 69 |
| Interferons (alfa) | 141 |
| Insulin and analogs | 82 |
| Rituxan | 60 |
| Herceptin | 69 |
| Humira | 50 |
| Avastin | 57 |
| Somatropins | 43 |
| Enbrel | 41 |
| Neulasta | 38 |
| Remicade | 21 |
| Lantus | 17 |
| Cancer indications | 590 |
| mAbs, mAb fragments | 416 |
The table above shows the number of biosimilars (not including biobetters) targeted to some popular reference products and product classes.
Companies With the Largest Biosimilars Pipelines (10 or more; 1/2019)

Harvest Moon Pharmaceuticals USA, Inc.
28
Bioviz Technologies Pvt. Ltd.
25
Pfizer
21
BioXpress Therapeutics S.A.
20
Reliance Life Sciences Pvt. Ltd.
19
Mylan Labs.
18
Sandoz AG/Novartis AG
17
Chemo Group (Grupo Insud )
15
Dong-A Pharmaceutical.
15
Creative Biomart Inc.
15
UGA Biopharma GmbH
14
LG Life Sciences Ltd.
14
Inbiopro Solutions Pvt Ltd.
14
Dr. Reddy's Labs.
14
Bio Sidus S.A.
14
Intas Biopharmaceuticals Ltd.
13
Hospira/Pfizer
13
Biocon Ltd.
13
Zhejiang HISUN Pharmaceuticals Co. Ltd./3S Bio.
12
SciGen Ltd. (Bioton)
12
GC Corp./Green Cross Corp.
12
AXXO GmbH
12
Amega Biotech
12
Zydus Cadilla Healthcare Ltd.
11
Viropro Inc.
11
BioGenomics Ltd.
11
Siam Bioscience
10
Lupin Ltd.
10
Cassara Biotech
10
Biocad Biotechnological Co.
10
Amgen
10
Companies with the largest biosimilars portfolios (not including biobetters) are shown above. Note, multiple companies are often involved with a product (developers, partners, licensees, CMO manufacturers, etc.).

Biosimilarspipeline.com Information Resources: A variety of unique follow-on biopharmaceutical-related information resources are available or planned:
Biosimilars/Biobetters Pipeline Database:
see above and left column
Glossary of Biosimilar and Biobetter-Related Terms - simple definitions
Licensing Opportunities
- products, technologies and patents (planned)
Product Documentation Library
- descriptive product information from the only fully authoritative sources - manufacturers and regulatory agencies (planned)
News/Blog
- miscellaneous news and commentary (planned)
Some related articles by the database author:
"Biosimilars Paving The Way For Cost-Effective Bioprocessing," Biosimilar Development, Aug. 23, 2017.
"Biosimilars and Biobetters: Impact on Biopharmaceutical Manufacturing and CMOs," in Biosimilars of Monoclonal Antibodies: A Practical Guide to Manufacturing, Preclinical, and Clinical Development, by Liu, C. and Morrow, J., Wiley, Dec. 2016.
"Biosimilars Pipeline Analysis: Many Products, More Competition Coming", Biosimilar Development, July 26, 2016
"Future Manufacturing Strategies for Biosimilars," BioProcess International, May 2016, 14(5), p. 24-29
"Biosimilars Outsourcing and Capacity," Contract Pharma, May 2016
Pharmaceutical Outsourcing
"Biopharma Nomenclature: Citizen Petition Requests Biopharmaceutical Names and Information Be Disclosed by FDA," Contract Pharma [guest editorial].
"What Is a Generic Biopharmaceutical? Biogeneric? Follow-On Protein? Biosimilar? Follow-On Biologic? Part 1: Introduction and Basic Paradigms Introduction and Basic Paradigms"
, BioProcess International, March 2007
"What Is a Generic Biopharmaceutical? Biogeneric? Follow-On Protein? Biosimilar? Follow-On Biologic? Part 2: Information, Nomenclature, Perceptions, and the Markets" , BioProcess International, March 2007
"Re(Defining) Biopharmaceutical ," Nature Biotechnology, July 2008
"What is a Biopharmaceutical? Part 1: (Bio)Technology-Based Definitions," BioExecutive, March 2005 BioExecutive, May 2005
"Biopharmaceuticals: Lack of Information Disclosure Confounds Public Trust, Particularly in the Context of Biosimilars"
- guest editorial, BioWorld Perspectives

Need a Consultant With Biosimilars Expertise? - Contact Biotechnology Information Institute for world-class expertise concerning biopharmaceutical information, products, technologies, and related market, technology and policy assessments.


Have a question about content, the databases or PDF?; Contact the author, M-F 9AM-5PM Eastern U.S. time:

Sales, payments preferencially handled by:
Copyright©2019. Biotechnology Information Institute